Mythische PTR-Raidtests: 25. und 26 Mai: 4 Bosse im Grabmal des Sargeras
Erneut dürfen sich die Raider auf die Testserver begeben, um dort in das Grabmal des Sargeras reinzuschauen. Diese Woche stehen auch gleich vier der neun Encounter im mythischen Modus bereit!
Veröffentlichung
am 24.05.2017 - 08:00
Nachdem die letzten Raidtests wegen Stabilitätsproblemen abgesagt werden mussten, geht es im Grabmal des Sargeras auf dem PTR nun wieder weiter. So werden in den kommenden Tagen wieder vier der insgesamt neun Bosse unter die Lupe genommen. Dies ist wohl nach den vielen Klassenanpassungen auf dem Testserver auch nötig. Jedoch sind diese Tests eher wieder etwas für die Hardcore-Spieler unter euch, denn die folgenden Encounter werden im mythischen Modus aktiviert. Heißt also, dass diese Raidtests wohl auf jeden Fall ein Pflichttermin für die Progress-Gilden sind.
Genauere Details zu den Raidtests
Donnerstag, 25.05.2017

Goroth - Mythisch: 22:00 Uhr
Dämonische Inquisition - Mythisch: 23:00 Uhr


Freitag, 26.05.2017

Schwestern des Mondes - Mythisch: 22:00 Uhr
Herrin Sassz'ine - Mythisch: 23:00 Uhr
Vorschau auf die Encounter
Boss-Vorschau: Goroth

As punishment for his past failures, every move Goroth makes causes him searing pain. His entire existence is one of unending torment. His only hope is to win victory for the Legion and earn a higher station after his next resurrection.
Overview – Goroth continously gains Fel Energy until he can unleash [Infernal Burning], decimating any enemy it hits. Use [Infernal Spikes] to survive [Infernal Burning]and [Infernal Spikes].
Burning Armor – Inflicts 1100000 Fire damage every 2 sec for 6 sec. Upon expiring, Burning Armor explodes for 1425000 to 1575000 Fire damage and applies Melted Armor to all enemies in a 25 yd radius.
Crashing Comet – Goroth targets up to 3 enemies with Crashing Comet, inflicting 1267500 to 1332500 Fire damage to all enemies within 10 yds. This explosion destroys pillars.
Infernal Spike – Infernal Spikes erupt from the ground, inflicting 1368000 to 1512000 Fire damage to anyone in the area.

In Mythic difficulty, when an Infernal Spike is destroyed, it explodes for 390000 to 410000 Fire damage..

Shattering Star – Goroth selects a target and then hurls a Shattering Star at them after 6 sec, inflicting 2500000 Fire damage to all enemies within 200 yards. This damage is decreased by every Infernal Spike the Shattering Star collides with.

Any other targets struck by the Shattering Star while it is traveling to its target take 715000 to 790000 Fire damage.
Infernal Burning – Goroth ignites everyone he can see, inflicting 2632500 to 2767500 Fire damage immediately and 1200000 Fire damage every 2 sec for 10 sec.
Fel Eruption – Fel lava erupts from the edges of the room, leaving pools that inflict 300000 Fire damage every 1 sec.
Rain of Brimstone – Goroth calls down 4 meteors, each inflicting 5000000 Fire damage divided evenly between each of the targets. A Brimstone Infernal will spawn if a meteor fails to hit any targets.

Brimstone Infernal

Fel Fire – Ignites the area surrounding the caster, inflicting (2.2% of Spell power) all nearby enemies every 1 sec. Lasts 8 sec.
Boss-Vorschau: Demonic Inquisition
Anticipating the arrival of mortal forces invading the Tomb of Sargeras, Kil'jaeden has called on his best captors, Atrigan and Belac, to lock down the interlopers and prevent them from using the Pillars to advance deeper into the dungeon.
Overview – Atrigan and Belac share health.
Both Atrigan and Belac's abilities all inflict [Torment]. Reaching full [Torment] results in [Unbearable Torment].
Torment – Torment increases when attacks and abilities from Atrigan and Belac strike players. Players that reach full Torment are afflicted with Unbearable Torment and must Confess in order to remove the effect.

Unbearable Torment – The inquisition has broken you. All damage done is reduced by 20%, your chance to hit is reduced by 90% your healing done is reduced by 25%, and all damage taken is increased by 90%.
Confess – You confess your actions against the Legion to the demonic inquisition and are transported into Belac's fel prison.

Atrigan
Tormented Fragment – When prisoners escape Belac's cage these fragments of the Tormented Soul abscond alongside them.

Harrowing Reconstitution – As the Tormented Fragments attempt to reform their thrashing increases in intensity. All damage done by all Tormented Fragments is increased by 15% whenever a new Fragment escapes Belac's cage.
Explosive Anguish – Tormented Fragments violently release all their pent up torment and anguish upon death, inflicting 1950000 to 2050000 Shadow damage to all enemies within 10 yards.
Boss-Vorschau: Herrin Sassz'ine

Mistress Sassz'ine has spent a lifetime binding the denizens of the ocean to her dark will. With this power, she summons nightmares from the briny depths to wash away any who dare challenge her.
Overview – Handpicked to watch over the flooded passageways, Mistress Sassz'ine stands ready to retrieve the Tidestone from those foolish enough to enter her domain.
Delicious Bufferfish – Picking up a Delicious Bufferfish grants an additional 2% damage dealt. Healers instead restore 500 mana every 1 sec. These effects increase every 5 sec, up to 50 stacks.
Taking any damage causes the Delicious Bufferfish to drop onto the ground.

Dread Shark – A Dread Shark may catch the scent of a Delicious Bufferfish! It will devour the Bufferfish and all players within 10 yds after 6 sec.

Hydra Shot – Marks players for a piercing Hydra Shot. After 6 sec, each arrow inflicts 2700000 Physical damage to all targets up to that player, split among those struck. Each player struck also gains a stack of Hydra Acid.

Hydra Acid – Hydra acid covers a target, inflicting 124800 Nature damage every 1 sec for 6 sec. This effect stacks and stuns for 6 sec upon reaching 2 or more stacks.

Burden of Pain – Curses a target with wracking pain. 100% of all Physical damage the player suffers while the curse is in effect is additionally shared to all other players.
From the Abyss – Beckon forth three Abyss Stalkers from the depths.

Abyss Stalker – Abyss Stalkers' melee attacks inflict shadow damage to their target instead of physical damage.

Dark Depths – Step through the shadows, striking a random player with Jaws from the Deep.

Jaws from the Deep – Bites a player, inflicting 245700 to 258300 Shadow damage immediately with an additional 212940 Shadow damage every 1 sec for 4 sec.

Concealing Murk – Upon death, Abyss Stalkers release a cloud of Concealing Murk for 20 sec. Players within the cloud suffer 233220 Shadow damage every 2 sec and have their hit chance reduced by 75%.
Stage One: Ten Thousand Fangs
Thousands of creatures rise from the depths of the ocean to assist their mistress.
Slicing Tornado – Slicing tornados sweep across the platform, inflicting 288600 Physical damage every 1 sec for 20 sec.
A Slicing Tornado coming into contact with Concealing Murk reduces its efficacy.
Thundering Shock – Jellyfish rise up from the waters, charging up to inflict 1512225 to 1589775 Nature damage and stun players within 6 yds for 4 sec.
Striking a murloc with Thundering Shock knocks it off a player and makes it vulnerable to attack.
Consuming Hunger – Beckons forth several Razorjaw Waverunners, which attach themselves to players, inflicting 312741 Physical damage every 2 sec.
Being struck with Thundering Shock knocks the murloc off of the target, making it vulnerable to attack.

Water Blast – Murlocs shoot water at players at low range, inflicting 682500 to 717500 Frost damage.
Stage Two: Terrors of the Deep
Deep sea leviathans approach and answer the call of their master.
Beckon Sarukel – Mistress Sassz'ine calls forth Sarukel, the Unending Hunger to swallow everything whole.

Devouring Maw – Sarukel opens his maw, sucking in all players and inflicting 364000 Frost damage every 2 sec. If a player comes within 15 yds of Sarukel, they are devoured whole. Upon inhaling 3 Befouling Ink clouds, Sarukel becomes disgusted and flees.

Summon Ossunet – Mistress Sassz'ine calls forth Ossunet, the Darkness to obstruct her foes.

Befouling Ink – Ossunet sprays ink clouds about, sticking to players who enter them. Ink clouds inflict 450450 Shadow damage every 2 sec, reducing movement speed by 60% and can be carried to Sarukel, The Unending Hunger to drive him away.

Call Vellius – Mistress Sassz'ine calls forth Vellius, the Drowning Tide to smash her enemies.

Crashing Wave – Vellius crashes through the area, inflicting 2916000 Frost damage to all players he comes in contact with, knocking them back.
Stage Three: Vast Oceans of Wrath
Mistress Sassz'ine uses her full powers to wipe away her enemies.
Boss-Vorschau: Schwestern des Mondes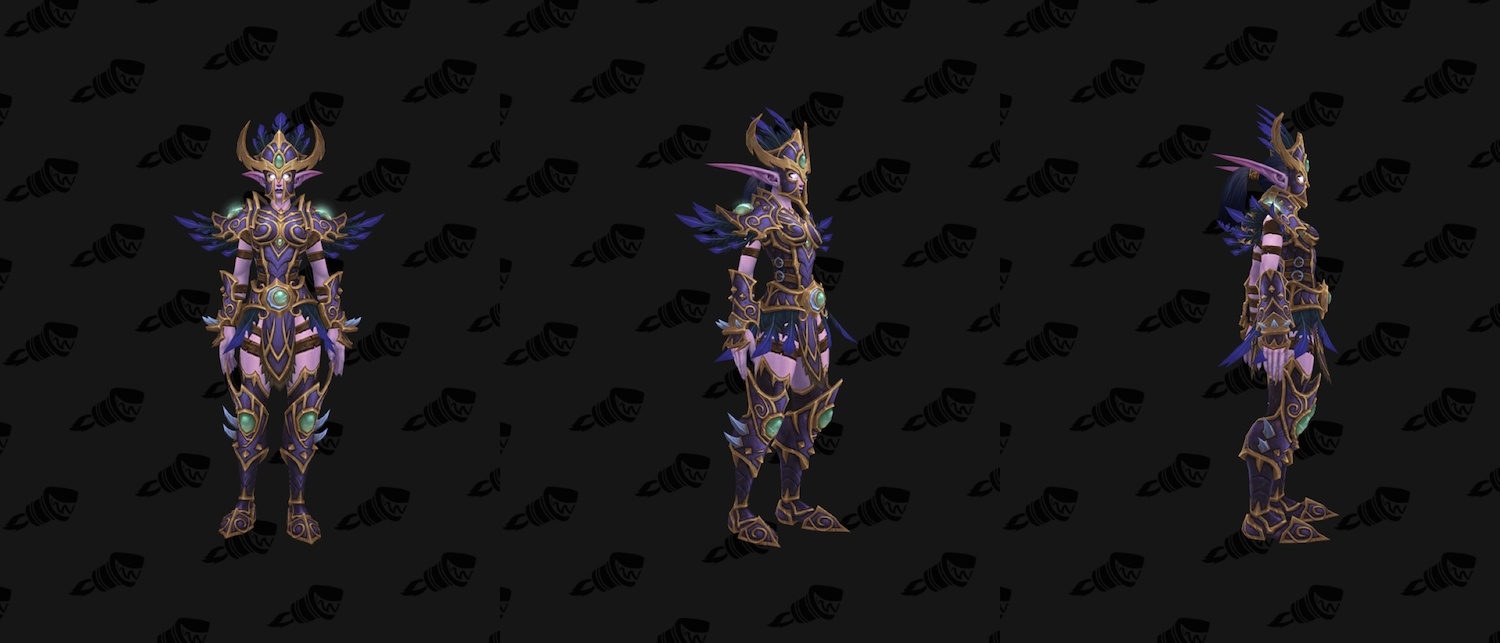 The Sisters of the Moon served as wardens for the temple long before the avatar of Sargeras was buried beneath it. Even in death, the sisters maintained their vigil, but over the millennia something twisted their ability to distinguish friend from foe. Their madness slowly consumed them, and now any who enter their sacred chambers are put to death.


Thursday, May 18

Goroth - Mythic Tomb of Sargeras
13:00 PST (16:00 EST, 22:00 CET)

Demonic Inquisition - Mythic Tomb of Sargeras
14:00 PST (17:00 EST, 23:00 CET)

Friday, May 19

Sisters of the Moon - Mythic Tomb of Sargeras
13:00 PST (16:00 EST, 22:00 CET)

Mistress Sassz'ine - Mythic Tomb of Sargeras
14:00 PST (17:00 EST, 23:00 CET)

After testing concludes on Friday, we plan to open Raid Finder Tomb of Sargeras over the weekend.

As always, this testing schedule is very fluid and subject to the realities of a PTR environment. We might have to change the time of a testing session, change the bosses being tested, or cancel a test entirely, due to bugs, server hardware issues, etc. Keep an eye on this forum for the latest information, and thank you in advance for testing and providing feedback.

Q: How do I get into the raid zone?

A: In Dalaran, Orgrimmar, or Stormwind, you may speak to Nexus-Lord Donjon Rade Sr. in order to teleport into the raid zone while it is open for testing. (The option to teleport into a zone will not be available when the zone is not open for testing.)

Q: What character should I use to test the raid?

A: Whichever you prefer. We will be scaling players' effective level to 110 for raid testing, and their item level to an appropriate threshold for the encounter(s) being tested. For 7.2 raid testing, we'll be granting players all the new 7.2 artifact traits IF players have done the quest to reveal those new traits. Complete the Broken Shore intro experience in order to access this quest.

Q: How long does testing last?

A: The primary purpose of testing is to give us the information we need to balance the encounters, evaluate how mechanics are playing out in practice, and identify bugs. Once we're satisfied that we've received that information for a given boss, we'll be shutting down testing. Usually this takes anywhere from 45 minutes to 2 hours, but there are no guarantees.